About Iron Gate Storage
Iron Gate Storage is a local small business that specializes in mini-storage and truck rentals and caters to public, business, and government customers. We have five conveniently-located Vancouver facilities as well as one facility in Beaverton. Iron Gate's mission is to make storage and moving easy and convenient for all our customers. We strive to accomplish this by focusing on the three most important aspects of a small business:
Develop and maintain positive relationships within our communities
Maintain unparalleled integrity in customer service
Offer a one-stop shop experience
At Iron Gate Storage we don't just stop at storage; we offer an extensive array of moving supplies, mailboxes, as well as Penske truck rentals.
Community involvement is very important to our entire staff; we participate in the yearly KGW Toy Drive, year round food and clothing drives; all donated to local charities including Share House and Portland Rescue Mission. Iron Gate Storage is also a Corporate Sponsor of a non-kill animal shelter, Furry Friends, running bi-yearly garage sales and participating in other fund raising events.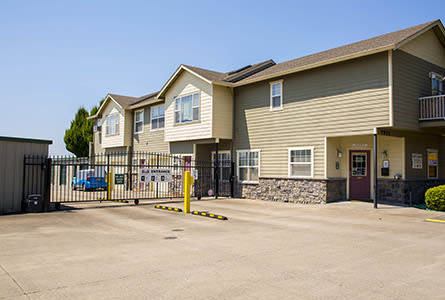 Iron Gate Storage opened its first facility in 1989, located at 802 NE 112th Ave in Vancouver. Cascade Park, as we affectionately refer to it as, was an existing property that was completely renovated before reopening as an Iron Gate Storage. Cascade Park Iron Gate Storage boasts 550 alarmed units and rents Penske trucks on site.
The second facility to be added to our growing company is Iron Gate Mega Storage, located in Orchards at 7920 NE 117th Ave. This property opened in 1999 and is one of the few facilities in Clark County that can accommodate a semi-truck and is also one of the two largest facilities in Clark County with 816 units. Iron Gate Mega Storage offers alarmed and climate-controlled units and rents Penske trucks right on site.
Iron Gate Storage opened its first downtown Vancouver facility in 2004, located just north of Pearson Air Park, at 2225 E 5th St. This property is perfectly located to accommodate the needs of many downtown businesses as well as residential customers. Our Pearson location is made up of 494 alarmed units, with half of those being climate controlled.
2004 was a big year for the Iron Gate family as it was also the year we opened our second downtown Vancouver location at 1200 W Fourth Plain Blvd. This facility was built around a Victorian style farm house that has been a part of the Vancouver landscape since the late 1880's. Now the office, we took great care in renovating and rejuvenating a part of our community's history. Around this beautiful old landmark lays 481 storage units. This facility also rents Penske trucks right on site.
Our newest Vancouver facility opened in 2007 and is centrally located right off of East Mill Plain at 2410 E 5th St. This facility is conveniently nestled in one of Vancouver's largest and most popular residential areas. With 481 alarmed units, this property has unit sizes to accommodate the needs of local businesses as well as small units perfect for the needs of apartment residents looking to store seasonal goods. For more information on this facility please contact us.
The most recent facility acquired by Iron Gate Storage is our completely renovated Beaverton location. Originally built in 1972 this facility and its 439 units were completely renovated from top to bottom, inside and out. At 4050 SW 160th Ave, Beaverton; this facility is located within a couple miles of the Nike Campus and just a few miles from Washington Park and the Oregon Zoo.